It's the holiday season, which means event professionals have their game face on. Need a dozen trees flocked and staged in 24 hours? Sure. Must find a Santa with a real beard and twinkly blue eyes by the end of the week? No problem. Got to have two turtle doves and five golden rings? Anything is possible.
Event managers might make it look easy, but they have their hands full this time of year, which means keeping up with catering trends is likely not at the top of anyone's to-do list. Unfortunately, a food and beverage experience that feels dated is one of the quickest ways to undermine dozens of hours of creative work and leave a less-than-stellar taste in your guests' mouths.
The chefs over at Fork + Farm Catered Events have taken the guesswork out of the holiday menu and created this list of 2018's top holiday catering trends. So take a breath, event profs. We've got you (because we know you've got everything else).
Bite-Sized Everything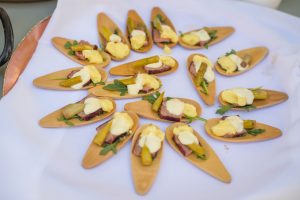 The perfect dining style for a stand-up event, bite-sized morsels have taken the holidays by storm. An explosion of perfectly balanced flavour and texture in a single bite, we're seeing this done with everything from canapés to full steak dinners. Small in size, big in impact, this approach lets your guests move throughout a space while they dine, creating a more fluid event experience.
Hummus!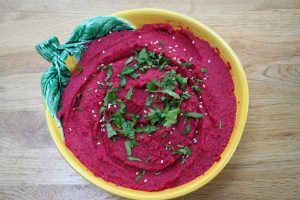 This isn't your mother's hummus. Healthy, vegan, and an easy base for experimentation, hummus is to this year's holiday season what frozé was to the 2018 wedding season. Our favourite thing about this trend is the opportunity to get creative, like with this punchy and colourful beet hummus.
Interactive Dining Experiences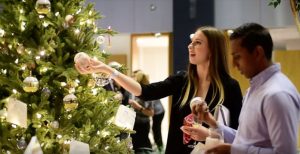 No one understands the value of an engaging dining experience quite like an event prof, so we're excited to see more and more clients requesting catering that goes above and beyond action stations and passed canapés. One of our favourite projects this year was a series of Christmas Tree's decked with delicate, edible decorations that guests could pluck from the heavily scented branches at will.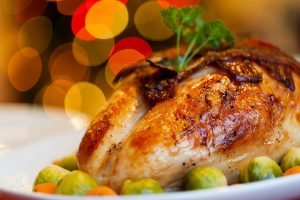 A full turkey dinner is a traditional and yet unconventional approach to a holiday party. Most holiday events take a more modern approach to catering this time of year, but there's something to be said for the unexpected and yet familiar smell of a roasting turkey and a sweetly simmering apple pie. Bring a touch of home and hearth to your guests' holiday party with a meal that will remind them of sitting around a dining table, surrounded by loved ones and the all the trappings of the holidays.
Dennis Jeffery is the executive chef and co-owner of Fork + Farm Catered Events, currently  nominated for a Top Choice Award for Best Caterer. For more tips on catering trends, or to learn more about Fork + Farm, go to forkandfarmcatering.com