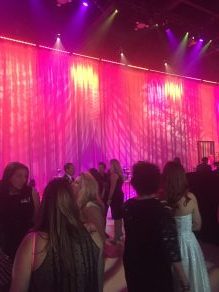 An event put on by event planners FOR event planners I knew it was going to be nothing short of spectacular. The 2017 ILEA Esprit Awards held at the Calgary TELUS Convention Centre this past weekend did not disappoint!
Walking into the room, the theme was definitely noticeable and a definite hit with the attendees.  With neon lights shining on the backdrop, mini rubik's cubes decorating the cocktail tables, mannequins dressed in 80's attire, and of course 80's music one was immediately  transformed back to that period
When seven o'clock hit, the backdrop was opened to the banquet tables and stage where Girls Just Wanna Have Fun was sung by a singer who I could've sworn was Cyndi Lauper (it wasn't).  Dressed in 80's style the awards were emcee'd by Brent Beatty, VP of National Sales at FMAV, and typical Brent style, he charmed the crowd.
A huge congratulations to all the nominees and winners, especially those from Edmonton and Calgary. (We are the Alberta Meeting & Event Guide after all).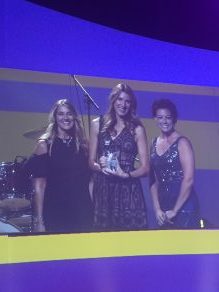 As a founding sponsor of the Edmonton Event Awards, we were pleased to congratulate Nela Kovacovic and Arlene Schilke from Timewise Event Management for winning the Best Industry Contribution Award.
Special thank you to Anne Finzer, Chair of ILEA Live 2017, for introducing us to ILEA, and to the rest of the committee for putting on such a fantastic event!
For a full list of winners please click here