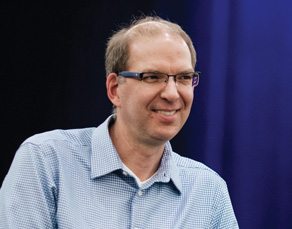 Tell us a little bit about yourself and your background.
I am a production and lighting designer. I graduated from National Theatre School in 1990 and started in the industry in Montreal in 1988. I worked on Broadway for a large part of the 1990s and also toured with multiple Broadway shows throughout Canada and Asia. Between Broadway shows, I worked with Cirque du Soleil. In 1999 I was tired of always being on the road and decided to move to Alberta and Started Orange Frog Production Inc. We will be celebrating our 20th anniversary next year. I also worked as the lighting and production designer for the Calgary Stampede Grandstand Show for 19 years.
What are some of the trends you are seeing for meetings/galas/conferences as we head into 2019?
One of the trends I am seeing is a shift from the typical staging of two screens and a podium for gala night to a more creative environment with integrated video screen, scenery and MVA/Brit Awards/Juno-type lighting installation. Pixel mapping, which is different than video mapping, is also becoming a trend. Pixel mapping is where you can run video content throughout video screen, lighting fixture, led tube, led tape and led in scenic components. Gobos are also a big trend in my circle. Texturing a room with lighting fixture can totally transform a concrete bunker into a beautiful room.
How can small events utilize A/V to make their event stand out?
For me I am a little biased to lighting. If you have only a few dollars to spend on an event, spend it on lights. A few gobo textures projected on the wall, some up-lights, a buffet well lit or a dance floor that has lights moving to the music are some of the best ROI an event can get. So many planners spend lots of money on photographers and videographers but not on lighting. The problem is that these artists need lighting to capture the scene. The better the lighting setup will be, the better the photos and video are. Finally, lighting gives the room a focus. Think of lighting the same way you would think of a movie director…. lighting tells you where to look, it can grab your attention at a specific moment. Lighting has the power to quiet a room (by doing a blackout) or pump up the energy of the room to 10 by following the beat of the music and making you feel like you are a part of the action.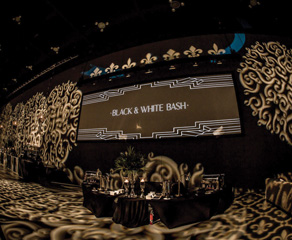 Smaller budgets mean decisions need to be made regarding what the "must-haves" are. What would you consider a "must-have" for smaller events?
As I mentioned before, lighting is a great ROI for smaller budgets. A few lights positioned in the right area can really transform a room. Wrapping the room with up-lights or projecting half a dozen gobos on the wall can take you from zero to hero in no time. Obviously, if you are doing a PowerPoint presentation, your best ROI is a video screen and a sound system. Unfortunately, most of the time lighting is an afterthought, but lately we are noticing more and more successful event professional making a shift and making lighting a priority. Many planners have shared with us that beautiful lighting design has been their secret weapon for years. Finally, make sure that your lighting designer has chops. If you are just dropping some light in a room without purpose, it will not benefit you.
What should event professionals be looking for when considering an A/V company? Are there any "red flags?"
Event professionals have to be aware that there are two types of AV companies out there. There are generalists that can do everything for you, and there are specialists that are on top of the latest trends in their specific field. There is an advantage to both scenarios. The turnkey AV company (generalist) can provide you with everything you need from screen to audio, décor and lighting. Some will even provide you with entertainment. This simplifies the workload of the event professional, who most of the time is overloaded with projects. On the other hand, there is the specialist, the company that specialize in only a few subjects to the best of their ability. These companies are lighting, audio, décor, scenic, DJ and video companies. These companies tend to be ultra-specialized, and they know everything there is to know about their specific fields. When using these specialists, it will require more time from a planning perspective, but it brings a lot more creative options to the table. You are getting multiple voices at the table, and if you like being a part of a tribe, collaborating and being creative, it is well worth the extra effort, and you will see the difference on your events every time.