The best in the Canadian event industry this year? An introverted Albertan. Brent Taylor took home the coveted and prestigious Event Professional of the Year Award at the 2018 Canadian Event Industry Awards in March. "It's recognition on a national level for my contributions to the industry," says Taylor. "It's reaffirming that, as a business, we're heading in the right direction and doing the right thing."
For those familiar with Taylor and his work, this may not be a surprise. As a team, Brent Taylor and Arlene Schilke have worked diligently to revolutionize the industry. Schilke founded Timewise Event Management in 1999, with Taylor becoming a managing partner in 2004. "It's neat working with your spouse," says Taylor. "It's something we share in common."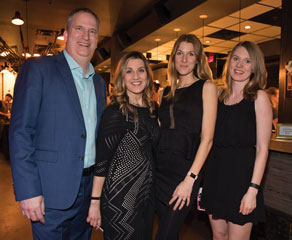 Now, Timewise is spearheading various initiatives in the region. Particularly, the Edmonton and Calgary Event Awards recognize the efforts, ingenuity, and leadership in Alberta events, while also providing space for professionals to bridge connections and build community.
This year was also the first for GO WEST, a two-day event consisting of a conference and tradeshow. "Canada has a lot of conferences out east," explains Taylor. "But there's really not much beyond small chapter events in the west." GO WEST therefore seeks to make national and international speakers more accessible to western Canadians—especially young event professionals.
The more knowledge available to the Albertan (and Canadian) industry, the more the industry can grow and flourish. Timewise is also launching the not-for-profit Event Professionals Foundation to help offset
some of the necessary costs to attend national and international conferences. Such exposure and opportunity are invaluable. "You come back energized and wanting to strive to do more. You come back with new relationships with people from other parts of the world," explains Taylor.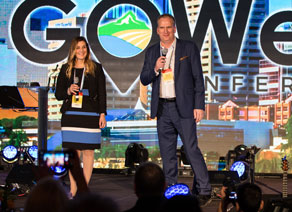 Taylor himself is feeling that energy, as he was recently appointed to a three year term with the Meeting
Professionals International (MPI)'s International Board of Directors—the largest association for event professionals in the world. And he is one of only a few Canadians ever appointed. "It brings a Canadian perspective to the board, [and] whether directly or indirectly, it's going to affect the Canadian chapters," says Taylor, emphasizing the significance and honour of his new position.
Social organizer. Networker. Social leader. Taylor never would have imagined this is where his path would lead. "I was a super shy kid all through grade school. Super shy and withdrawn—not very social," he explains. "Twenty years ago, could I have done a cold call or shown up in a room full of people where I don't know anybody? No… but the more you do it, the more you realize that the world
isn't going to fall apart."
Even now, Taylor considers himself an introvert. "Introverted/extroverted really comes from how you recharge, while shyness inhibits you," he says. He's seen a vast change in his inhibitions over the
decades, and he credits his participation in organizations like MPI.
"When I first started going to MPI events, it was hard trying to break into a clique of people that you don't really know," he admits. "But I volunteered on a committee and it just accelerated the relationships." Subsequently, Taylor has chaired a committee, led two terms as president of the MPI's Greater Edmonton chapter, served on advisory boards, worked on international committees, earned his Certified Meeting Professional (CMP) certification—and is now serving as an international board member.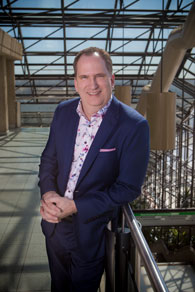 He has learned—and continues to learn—a great deal. And although he has worked in the industry for 25 years, the Event Professional of the Year Award reflects Taylor's contributions in 2017 alone. "I am always looking for ways to be better tomorrow than I am today," he says. "I want to help the industry develop, and this motivates me to push even further."
~ Tamara Aschenbrenner