Q&A with Danny Hooper, Celebrity Benefit Auctioneer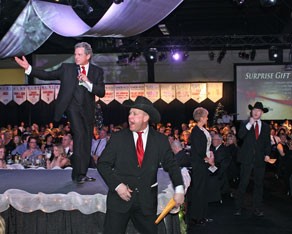 When it comes to charity auctions, you are a very well known name. Tell us about your background.
It began back in 1987 when I was invited by my Uncle Wes Spencer to help him with a Ducks Unlimited auction. Back at that time I was a country music entertainer, and Uncle Wes wanted me to come and provide some entertainment for the night. And after watching him do that auction for Ducks Unlimited I got the bug and I decided that I would pursue that as part of my career. Fundraising charity auctions are the only type of auctions I have done.
Why did you choose charity auctions?
I just decided to specialize – I recognized there was a real niche there within the auction industry. There are many different specialties within the medical or legal profession, and back then nobody was specializing full time in fundraising auctions, so I decided to pursue that niche.
Your business Danny Hooper Productions is more than just a charity fundraising auctioneer business. Tell us what else you do.
The three links of my business are 1) the fundraising auction business, 2) corporate emceeing, and 3) speaking – primarily personal development training and speaking. I am a certified trainer for Jack Canfield (the co-author of the Chicken Soup for the Soul series). He wrote a book called The Success Principles and I was certified last year to become one of the trainers in the success principles.
You have a book called Easy Money: How to Generate Record Profit At Your Next Fundraising Auction. Tell us what we can find in the book.
I put this together primarily to help non-profit organizations, most of which are made up of volunteers who often don't know what they don't know. It was becoming very evident to me that a lot of opportunities were being missed at these charity events where kind-hearted volunteers were pouring their heart and soul (and all of their time, energy and financial resources) into organizing these events and they often weren't as well planned as they could be. There were often lots of opportunities, and lots of money, left on the table. Well not left on the table, but walking out the door at the end of these events. I found that very frustrating so I wrote a book and gathered up all the knowledge I had learned over the last 30 years in the industry into this book. So it's been a great resource for my clients, and other non-profits.
In your experience working at the charity auctions, what makes a successful event?
I call it the three E's. The first E is it needs to entertain, the second is it needs to engage, and thirdly it needs to extract. The number one reason that people choose to buy a ticket to a fundraising event is not to raise money for the charity, as we may think. The National Auctioneers Association did a survey a few years ago and found that 93% of the respondents said that the number one reason they buy a ticket to attend a fundraising event is to have fun. So you really have to provide the entertainment for your event. I think that is one of the reasons we have done well in this space, with my background as an entertainer, I am always bringing a lot of comedy and humour to the event. The second one is engagement… you need to get people's attention and hold it through the night. We've all been to those events where the crowd is out of control, nobody is listening to the emcee or auctioneer… the table chatter just drowns everything out. When the room gets out of control like that, you definitely are not going to achieve the results. And finally, you have to extract the money.
A lot of events have both live and silent auctions. What are some "hooks" that you have seen that have raised the bar?
One of the first things that comes to mind is the growing popularity of electronic bidding. There are a number of companies out there that provide these tablets that they place at everybody's tables. They use these most successfully for the silent auctions. People are able to bid on the silent auction right from the comfort of their chairs, which is great because at many of these gala events they have nice meals and people don't have to be jumping up and down. That is also a distraction from the live auction… the last thing you want to have happening is having people jumping up to go and check on the silent auction. You want their attention on the live auction because that is where most of the big money is made. The second thing is cash appeals (fund-a-need, fund-an-item, fund-a-cause) and this is simply where we're addressing the audience and saying "folks, a lot of you are probably feeling like you already have enough stuff and you're not interested in participating in the live or silent auction. Nonetheless the very fact that you are here tonight says that you want to support the cause, so right now we are going to have a very simple cash appeal to raise some money for [specific cause]. Would anybody raise their hand and donate $1,000 (or $500 or $100)." The most successful one I ever conducted was for Sorrentinos Garlic Stomp in support of Compassion House a few years ago. They were trying to raise $250,000 to retire the mortgage on the renovation of Compassion House, so I turned to the audience (just on a whim – this was not planned or scripted) and said "folks, we have over 600 people here tonight. I know that we have 25 of the most successful business people in Edmonton here tonight, and I am going to ask if 25 of you would consider pledging $10,000 a piece so we can retire this mortgage." Well in the next 90 seconds, 35 hands went up. We raised $350,000 in 90 seconds. Cash appeals can be very very successful if handled properly.
Would you say experiences sell better than items in auctions?
Generally speaking, yes. People are interested in unique experiences. I had an event a while ago where one of the trips was an opportunity to fly to St. John's, Nfld and spend the day on the boat with a lobster fisherman and it sold for huge money. I had another event in Vancouver and it was a flop. There were 100 extremely wealthy people in this private home for this auction and each of the 8 items included Learjet trips to famous golf courses and I couldn't give them away. It was horrible. In the aftermath, when we debriefed to figure out what went wrong, the light came on that all of these wealthy people already owned private jets, they already had fancy houses on golf courses, so there wasn't a lot of attraction to the packages that were being offered. What would have worked better for that crowd was a 10 day trip on a donkey up a mountain in Tibet… that kind of an experience would have been a huge home run with that kind of a crowd. So you have to be careful that you match your experiences to the crowd that you have in your room at your event. That's where we work closely with our clients now – we have really stepped up our game in the last couple of years. With the downturn of the economy, we have started working a lot closer with our clients in terms of coaching them and consulting them to make sure they have the event set up properly, that they have the right items for the crowd, that they have the right people in attendance for the event.
What are some of the most unique auction items you have seen?
I did an auction for the NFL in California back in March and a gentleman donated his brand new Gulf Stream jet to take 10 people to any football game they wanted to see. The donor said the winner could pick the hotel, pick the restaurant, and that sold for $75,000. Then we doubled up on it and made $150,000 on that one item. Another cool item I saw was at an auction for the David Foster Foundation in Toronto and the featured entertainer was Andre Bochelli. He donated 2 seats on his private jet to fly to Florence, Italy to stay with he and his wife in their home for 4 nights. That brought huge money. Three nights later I was in a church in North Edmonton trying to get $36 for 8 rings of garlic sausage!
What items don't work at auctions anymore?
You know what items don't work anymore? Whatever worked last year. The point I am trying to underscore there is that very often non-profit organizations get in a rut and they repeat the same things over and over. I've often said that Edmonton doesn't need another autographed Taylor Hall jersey in an auction. We see it quite often where they get the same 8-10 items and are trying to sell it to the same audience as last year. You need to change it up… What you are always trying to do is raise the bar and make it a better event than it was last year. People don't want to spend $100 on a ticket and come and find it is just a repeat of last years' event. There is no excuse for not finding great items. In my book, I list 400 items in the back that are all things I have sold. I put them in there to stimulate people's thinking and imaginations. It's amazing when a committee sits around a table and starts going through the list and starts pooling resources. For example, if they want to auction off tickets to the Superbowl – chances are someone in that room knows someone who knows someone who can get tickets to the Superbowl. It's the six degrees of separation. There are also consignment companies out there who offer all kinds of amazing packages. I did an auction for the Catholic Church up in St. Albert a few years ago, and they were celebrating a major anniversary and we went to one of the consignment companies out of California and arranged a trip to the Vatican that includes a tour of the private Vatican museum, which is many levels underground and not open to the public. These are the kinds of doors some of these consignment companies can unlock and you can get some unbelievable packages that you could never put together on your own.
You are known for your Wild Card auctions – tell us about that
The Wild Card auction is the simplest little idea in the world and that is probably why it works so well.    I came up with it years ago after hearing people at events say to me "you know I would have been happy to donate an item to the auction, but nobody asked". And I heard that over and over so I came up with the simple idea to take a package of those neon coloured index cards, throw a couple down on each table and invite people at the event to write something down. I was doing an auction for STARS Air Rescue up in Cold Lake a few years ago and one of the Wild Card donations was the local doctor donated a painless vasectomy. And it sold for like $3,800, and then we doubled up on it. The crowd was in an uproar because it was so entertaining! To date, the Wild Card auction has generated, by our calculation, just over $1,000,000 for non-profit organizations.
What are some tips you would give to people when they are looking to hire an auctioneer?
I would say that a fundraising auctioneer is a specialist… fundraising auctioneering is a highly specialized sector within the auction industry. There are many types of auctioneers, each who have their specialties. You have your heavy equipment auctioneers, you've got your fine arts and antiques auctioneers, you have your livestock auctioneers. As with any specialty, I jokingly say in my book, if you need a root canal, are you going to go see a gynecologist? Probably not… even though they are both doctors, you want to go to a dentist. You want to go to someone who specializes in oral surgery. Here is the big difference – fundraising auctioneers have a different way of thinking. A cattle auctioneer thinks about one thing: how much money can I get for this heifer? An auto auctioneer thinks, how much money can I get for this classic car? An antique auctioneer thinks, how much can I get for this antique chair? A fundraising auctioneer, however, thinks, how much money is in this room and how can I collect as much of it as possible for my client? And to do that we have a broad spectrum of techniques, strategies, tools of the trade that we use. We have things like the wild card auctions, cash appeals, legacy auctions, triple chance raffles, super silent auctions, just to name a few. We have all of these techniques. When you ask a cattle auctioneer, or a media personality to conduct any of those things, they don't have a clue. So if you are relying on just the live auction, you are really missing an opportunity to capture a lot more money that is in that room. This is why it is really important that you find an auctioneer who has experience with fundraising auctions, is trained in the specialties of fundraising auctions, who has the ability to consult/coach your organization (you're going to have a million questions between when you find your auctioneer and when you have your event night and it's important to have someone who can answer those in plain language so everyone understands), and finally you are looking for someone with a proven track record. I feel very blessed that we are as busy as we are and I have many clients who I have served for over 20 years – organizations like the University Hospital Foundation, Shriners Club, a number of Rotary clubs. They wouldn't hire you back year after year if you weren't providing value, so people get hung up thinking of their auctioneer as a cost, but it isn't. The auctioneer is the most important person in the room once the doors open and the evening gets underway. The evening needs to be focused on fundraising and nobody is better equipped to keep the focus on this than a certified fundraising auctioneer. And fortunately there are getting to be more and more specializing in this field – and that is a good thing.
Any last suggestions for event planners when planning an event
Yes, buy my book. It's the best $24.99 you'll spend. I used to be shy about saying that, but now, shameless self-promotion, call it what you want – the $25 is not going to make any difference in my world. It's going to make a huge difference in the world of the people using it. I have people ask me why I would put all of my secrets and knowledge into a book for anyone to read and I just believe that this information needs to get out there, needs to be shared, and every day I go to bed knowing that there is a copy of that book circulating that is helping raise who knows how much money for who knows what organizations, and I feel good about that. It's a great resource and you can get it at dannyhooper.com
Meghann Tanner
from the Alberta Meeting & Event Guide Fall 2017 issue