Jeevs is the Business Development Manager–Alberta with Givergy, an award-winning fundraising technology company that offers a range of cutting-edge products and expert consultative advice to help non-profits raise more at fundraising events and online. Givergy originated in the UK but now has offices in London, New York, San Francisco, Toronto, Calgary, Vancouver, Hong Kong, and Sydney. Since 2009, they have helped raise $250 million for causes around the globe.
What are some of the biggest trends you're seeing in fundraising events?
We're seeing a shift in focus to artificial intelligence— charities are slowly beginning to incorporate chatbots and voice search to their fundraising strategies. They're also looking to further gamify the fundraising element of their events. They want it to be fun and interactive but most importantly increase participation.
In what areas are you seeing fundraising events having challenges?
The Giving Sector is a half-trillion-dollar market that is currently riddled with inefficiencies allowing millions of dollars to be wasted each and every year. An example of these inefficiencies are: expensive payment gateways, cheque transfers, fragmented small charities, as well as underqualified committees.
What can non-profits do to overcome these challenges?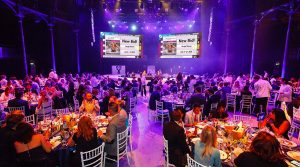 Better technology is the solution to many of these challenges. We recognise that the gala dinner is a small part of a much wider sector, but in many respects, it is the pinnacle of most charities efforts and fundraising initiatives. Givergy has demonstrated that it can operate at the most heightened of environments—fail-safe is the only option. From this platform, we are actively building out our suite of services to help charities improve their efficiencies, save money, and better communicate with their audiences.
There are a lot of worthy organizations holding events to raise money. What have you seen in your experience that are some of the more creative ways to get the attention of potential donors?
We've seen an increase use of immersive theatre at fundraising events, and there's no better way to involve and captivate guests. It can give guests a first-hand experience of what the charity is trying to resolve or aid, which can increase donations.
Auctions (both silent and live) are a significant revenue source at most fundraising events, but
they seem to be bringing in less money for most organizations lately. What are some suggestions for ways to bring excitement (and higher bids) back to both auction types?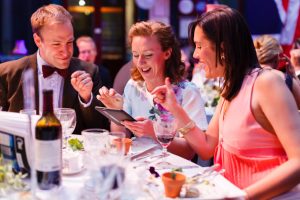 For silent auctions, we have seen a various amount of games being played during events, and Givergy offers something we call "Sealed Bidding," which allows your guests' bids to be sealed and anonymous. This adds that excitement of not knowing what the actual bid is and starting a mini bidding war.
For live auctions, it definitely depends on the live auctioneer that works the room and does his/her homework before getting up on that stage on who is in that room, and having fun with it. Also, having good live auction items will help a lot! Packaging multiple items to make a super live item would be a great option as well.
Ticket sales, auctions, and raffles are the big three as far as ways to raise money during an event. What are other ideas to incorporate into an event to draw more money out of the crowd that you have seen successfully done?
The MC is in a position of immense power for the duration of the fundraising event. They can whip up hype, excitement, and competitiveness, all of which are crucial to tactfully highlighting the importance of meeting the fundraising objectives set out for the event.
Final comments?
Givergy hopes to help more and more charities every year to raise more for their amazing causes and to bring awareness at the same time for the clients we work for, as well as the clients we hope to work with in the future!