One of the lifelines of all charitable organizations are fundraising events, and this niche market is exactly where Sabrina Ali has established herself. In her current role as Manager of Events Alberta for STARS Air Rescue and President of the Edmonton Chapter of the Association of Fundraising Professionals, Sabrina has a wealth of experience in both fundraising and event management. Her passion for fundraising started with the Good Samaritan Society where she worked as a Fund Development Officer, and soon her event portfolio included site events including cheque presentations, two golf tournaments, and executing a fundraising walk—a first for the Good Samaritan Society. To date, she has raised over $3 million through her successful events.
Sabrina then took on the challenge of the high-profile STARS (Shock Trauma Air Rescue Service) as a Fund Development Officer in charge of events. Here she shone as she created the Building Magic in the Air Gala—an event that will celebrate its 10th year in 2020. The glittering soiree has so far raised over $1.3 million for STARS. Sabrina proved herself a natural-born event planner, and for seven years the gala grew. Now she has turned her considerable talents to managing the Edmonton Events Team, sitting on committees for external events, planning internal events, and doing outreach in different communities.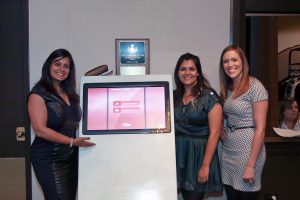 STARS, a helicopter EMS company, has six bases over three provinces, with Edmonton having the most third-party events (organized by individuals, companies, or committees to raise money on behalf of STARS). The events range from cheque presentations and small-town Dine and Dances to major galas. Sabrina views her role as more than planning and executing events—she sees it as building and maintaining relationships with people and organizations that keep STARS in the air. It's not just about one night. The event focuses on creating a guest experience that's positive and memorable, but also on building community with the people in attendance so that they stay engaged with STARS and become ambassadors in their communities.
Sabrina's method of planning events is a little different than most—she doesn't follow a critical path plan, opting instead to follow her intuition and experience. She is always researching and learning from other events, using social media as one of her biggest research tools. This gives her the ability to have a global view of fundraising events. Sabrina strives to make sure that her and her team's events are unique—bringing in the coolest, latest technology for both the guest and the donor experience. Her motivation is simple: STARS strives to be innovative in both the medical and the aviation field, and her fundraising is equally as innovative.
One example of this innovation is when she sent her team on the mission of finding new events and event tools, and they came across Givergy. Givergy, based out of the UK, develops fundraising technologies that increase revenues and make the process easier for both the charity and the donor. Their team flew in from the UK to meet with Sabrina and the events team about the Building Magic Gala, which ended up being the first fundraiser in Canada to use the Givergy system at an event.
Sabrina's passion for fundraising events and her role at STARS shows in the way she speaks about them, and this is even more pronounced in the way she speaks about her role with the AFP (Association of Fundraising Professionals). She joined the organization in 2009 as a member and started volunteering with them through the National Philanthropy Day and Communications Committee in 2010. From there, she took on the role of Director of Communications, then President Elect for 2017 and 2018, and then President of the Edmonton Chapter in early 2019. Sabrina is breaking barriers in her role as President, both as the first president who is an event fundraiser and is also the first person of colour in the role.
The AFP has been more than a resume builder for Sabrina, it's where she has built her relationship, sponsorship, and leadership skills. It's provided her with educational and networking opportunities, and an increased confidence in her career. As President, one of Sabrina's goals is to change the competitive mentality of fundraising and create a supportive community where people from different organizations can come together, learn from each other, and build each other up into leaders.
Sabrina is driven by her desire to make an impact in the world. While her management position at STARS enables her to make a difference there, she views AFP as an opportunity to extend that reach and share her knowledge and expertise with others, who will in turn go out and make a difference in their sector. It's a way for her to have a much larger impact.
Sabrina's goals and dreams don't stop where she is, either. When asked what was up next for her, she said, "There is nothing stopping me from being able to achieve more in the fundraising world." She knows that with passion and will, there are endless opportunities for growth, both in her career and with the AFP.
Sabrina was naturally drawn into event planning through her zest for fundraising, and she continues to leave her indelible stamp on the industry. Her drive for innovation, leadership, and making a difference promises that this is just the beginning for this fundraising event specialist.
~ Meghann Tanner