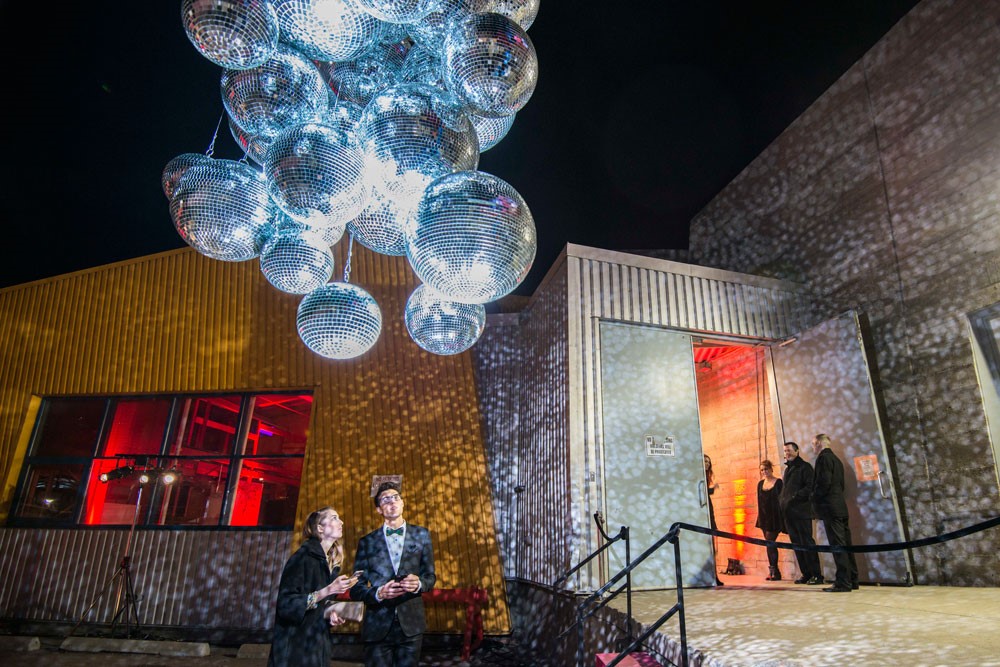 The Centennial Planetarium is practically vibrating. Steve Martin – acclaimed actor, Grammy-award winning musician, renowned comedian and prolific art collector – is in the building. Guests huddle in excited groups, phones at the ready; staff hurriedly make their way across the signature hot pink carpet, muttering into headsets; and in the middle of it all, Derek MacDonald quietly, with an almost impenetrable aura of collectedness, walks.
The owner of the award-winning event agency, Boom Goes the Drum, has every reason to abandon his outer shell of cool. This evening marks the return of LOOK, the annual major fundraiser for Contemporary Calgary, and an event that has helped put his company on the map as one of Canada's top strategic event planning agencies. The LOOK series has successfully bucked the all too familiar "rubber chicken dinner" gala format, and has been hailed as one of the country's hottest parties, winning numerous awards, and repeatedly selling out days in advance. The stakes are high for his client, and this year there is added hype with Steve Martin's role as a guest speaker, and host of 'The Social', Lainey Lui (also known by her moniker, Lainey Gossip) as master of ceremonies.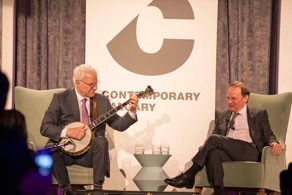 So how is it that, despite the hurried pace surrounding him, MacDonald seems unfazed as he makes his way up the Planetarium's winding ramp to Steve Martin's dressing room? After all, these days it takes more than star power to create a successful fundraising gala; challenging economic times require event producers to create meaningful connections with their guests.
MacDonald believes the key to fundraising and gala success lies somewhere in these connections. "At a fundraiser, you're asking something from your guests; maybe to support a foundation or lend their voice to a cause. Either way, to do that well you need to establish an event experience that creates a relationship which supports that ask." He also points out that this guest relationship should begin long before your guests ever walk into your venue doors, "If your first point of contact with your audience is at registration," he posits as we ascend the ramp, "You're missing something."
The process of establishing that audience relationship for LOOK began more than 10 months prior to the party itself, with a much smaller audience: the LOOK committee. "The Contemporary Calgary story was relatively new and unknown, and we couldn't possibly reach everyone by simply telling it ourselves. Rather than pump budget into amplifying one biased voice, we enlisted a group of voices and empowered them to tell it for us," explains Derek. "If you want to know who's responsible for this crowd, it's those people." The volunteer committee for LOOK consisted of more than 75 people that MacDonald speaks of as though they are superheroes – a group of people varied in demographics and attachments to the cause, but connected by a singular, visionary goal: to establish a significant destination in Calgary for public and modern art, and impact Calgary's status as a city of choice globally.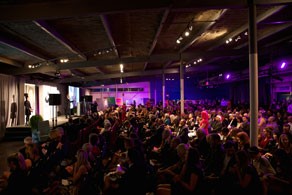 Wrangling their energy became the work of one full-time staff member of Boom Goes the Drum. According to Derek, it required a dedication to clarity: clarity of story, value, ask, and expectation. The approach wasn't a 'call to action' or transaction, but rather an invitation to collaborate and contribute. Only when the committee's enthusiasm was ignited and clear expectations delivered could they be activated to be ambassadors for Contemporary Calgary's story, and attract their networks to want to be a part of it at LOOK.
To support the committee's efforts to introduce the Contemporary Calgary story and attract people to LOOK, Boom produced a private shopping night experience in support of the fundraiser, which took place at Holt Renfrew (the presenting sponsor) one month before the event. This pre-LOOK event gave invited Holts' shoppers the chance to get to know and interact with Contemporary Calgary's brand through visual art installed in the store, a curated fashion presentation, and some of Calgary's best food and beverages, as well as a compelling invitation to shop: Holt Renfrew generously offered to donate 10% of sales that evening to Contemporary Calgary. "The plan," MacDonald says, "was two-fold: get them in the door, and then get them in the door again." Beyond shopping, this cross-promotional event involved a ticket sales strategy: guests who purchased a LOOK ticket at Holt Renfrew that evening received 50% of their ticket purchase price back on a gift card to be spent that evening at Holts (and 10% of that purchase when back to Contemporary Calgary as well). The event resulted in one of Holt Renfrew's most successful shopping nights to date (providing major ROI for a top sponsor), and tens of thousands of dollars in LOOK ticket sales.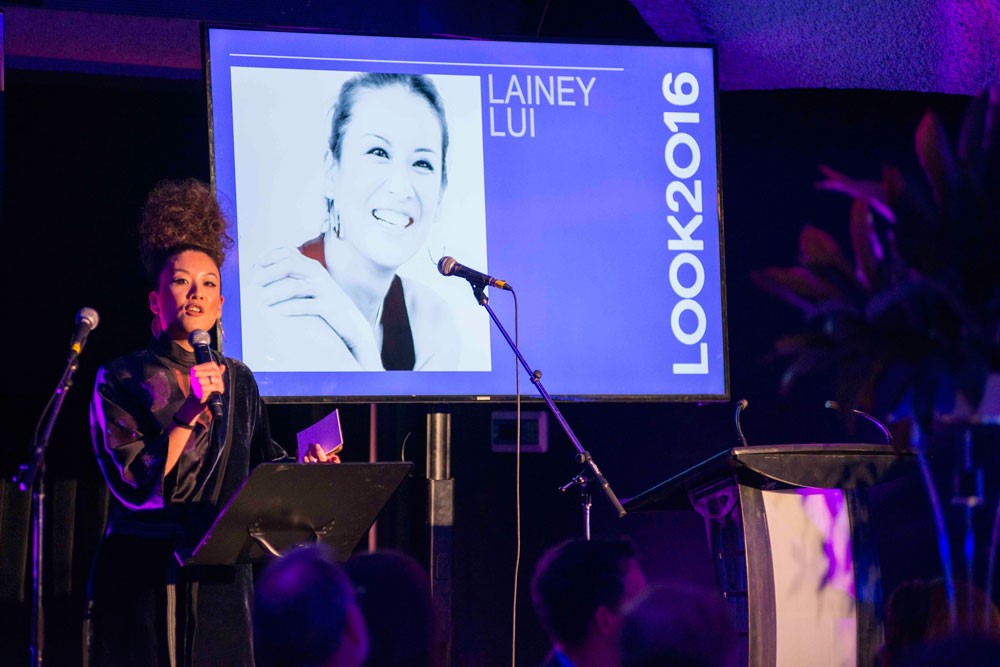 As we come off the ramp I stick close behind MacDonald, keeping one eye on the navy suit jacket in front of me while the other scans the bustling room. Calgary's crème de la crème are out in full force: women in floorsweeping, heavily beaded gowns rustle past young twentysomething's in brilliant, Warhol-ian jumpsuits; gentlemen in meticulously tailored suits lean against the cement, purple washed walls, occasionally adjusting neon pocket squares, or smoothing perfectly crisp collars. To the unacquainted eye, they are an overwhelming rush of bright, glittering, beautiful creatures; impossibly aloft, permanently out of reach. And yet, the experience that has been created for them this night is not out of reach- in fact, far from it. MacDonald sees experience approachability as another integral key in guest relationship building. While elements of LOOK were certainly targeted to specific audiences, there is an experiential entry point for every ticket level. As we look out over the bustle going on around us, he gestures to caterers delicately placing plates of sumptuous lamb and salmon on black linen-clad tables while florists fidget with stunning, overflowing vases. "We have a multi-course, plated dinner experience with a private program and entertainment for our VIP ticket holders, which makes sense for that audience. We also have a 'warehouse party' filled with live art installations and the coolest, weirdest bands, which will make sense for a different audience, later in the evening." He smiles out at the large room we're standing in, watching it transform. "It doesn't matter what ticket level you buy; if you're coming to one of our fundraisers, there will be a meaningful experience we create specifically for you."
Suddenly, I realize we have stopped walking, and are face to face with a sign reading 'Steve Martin', firmly admonishing further approach. MacDonald quickly points me in the direction of a nearby art installation before slipping inside the room, shutting it softly behind him. Laughter soon rumbles through the door.
The rest of the evening is a bit of a blur. Steve Martin, Lainey Lui and Adam Gopnik (columnist for The New Yorker) charm the crowd by turn, and the event cumulates in the afore-mentioned neon 'warehouse party', where the art world's 'old guard' dances with the new. Guests glow in the branded purple and pink lighting- it's one of those parties where, just by being in attendance, everyone feels just a little more sexy, a little more special, and like they're all in on some fantastic secret they're just dying to spill.
In the end, over three million dollars is raised to support Contemporary Calgary – a stunning feather to add to Boom's cap. But celebrating will have to wait: as the house lights come up and the last few partygoers are ushered into cabs, I see MacDonald making the rounds, ensuring no guest is left without a ride home, no artist's hand not shook, no volunteer unthanked. The committee members      b-line for him and he shares knowing glances with each of them as if to say, "I know – it's better than we could have imagined." I catch up to him and congratulate him on the success. He thanks me, one hand absentmindedly rubbing his eyes. He is clearly tired, but I can't help but ask him one last question- with the evening coming to an end, does this mean this carefully maintained guest relationship is also done? Is this, for lack of a better term, the beginning of the end?
He shrugs into a sleek black jacket, while turning my question over, eyes thoughtful. Finally, he says slowly, "If we've done our job, this is just the beginning. The best fundraisers and galas are able to keep their audience engaged long after they leave the venue because people keep craving the magic of the moment we created — and that's when it becomes not just a moment. It gets to live on through the organizations we support."
Jessica Tkachuk is an Event & Marketing Specialist with Boom Goes the Drum, an award-winning event agency that specializes in marketing strategies, communications planning, and even production. She currently serves as VP of Communications on the International Live Events Association Calgary board, and as a committee member with the Heart Truth Fashion Show